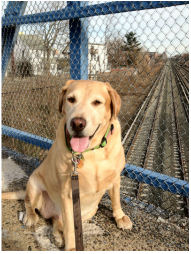 Skye's Family contacted the JLACF and here is some of what they had to say:
"The first time I heard of Skye's diagnosis, I felt numbness and tears just won't stop falling. Her vet has to call me back because I cannot seem to hear what she was saying. My world just stopped. I never thought this could happen to her. She is my rock, my pal, my joy. I not only felt the sadness of might losing her, but the feeling of helplessness that I will not be able to provide her the medical help that she needed was terrifying. I just cannot sit down and do nothing. Angels like you exist here on earth for the purpose of giving your utmost attention and assistance to people like us. You are God sent. Thank you so much from the bottom of our hearts. Skye sends her kisses to you, too!"
Thankfully we were able to help Skye, and hope that she is with her loving Family for as long as is possible.