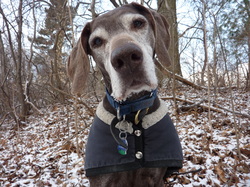 We learned about Max, a German Shorthaired Pointer with Splenic Lymphoma from his Mom. Max's Mom was determined to give Max the best care possible, and that was challenging because she had already spent a great deal of money on Max's previous ailments. She sold many of her belongings to pay for Max's care, but that was just not enough. She was denied CareCredit. Here are some of Max's Mom's words:
"I've had him since he was 8 weeks old. I am disabled. I have a severe allergy which makes it impossible for me to be around about 80% of humans, about 80% of the time. My daily life has the potential to be extremely isolated, and Max has been my constant companion for more than 13 years now. I have no husband or children, no siblings and other than my mother, Max is my only family. Our vet bills just in the last two weeks have been more then $2000 and has completely depleted not only my savings but has also used up all the help. Please help us…"
The JLACF did help Max get the surgery that he needed. The surgery was a success and Max is doing great! Max's Mom sent us the following update after Max's surgery:
"I am so grateful for the financial support your foundation was able to assist us with. Every application I filled out was rejected. It was very upsetting and discouraging, and I hope to someday soon start a foundation in Max's name, specifically with the mission to help people with my financial limitations care for their healthy senior dogs. Also I'd like to work in a way to encourage people to adopt senior dogs by attaching some sort of guarantee that inevitable
vet bills will be covered. I'm attaching a photo of Max, taken just before this last diagnosis.
Max is doing fantastic. His recovery was so quick, and the final diagnosis was Indigent Lymphoma, which is really the best possible outcome given the circumstance. This past year has cost us around $30,000 in veterinary bills–it's a miracle that it's all worked out. Since the beginning I've just proceeded with whatever care was recommended for Max with the assumption that because Max is so sweet and gentle, and has been such a blessing in my life, that the finances would work themselves out. I still don't know how it happened but it did, and I am so grateful and so lucky. Thank you for your part in all of this".
–Max's Mom
At the JLACF we understand the passion that Max's Mom has for Max– it is why we do what we do. With your help we can do more.