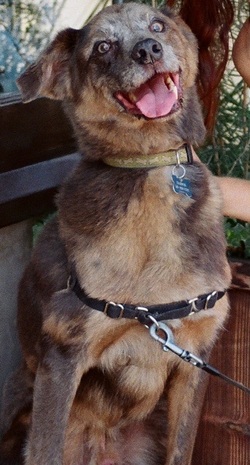 Darwin's caretaker contacted us from Los Angeles about Darwin and he sounds like an amazing guy. Here are a few of the things she had to say:
"Darwin is the sweetest dog you will ever meet. Everyone who meets him falls in love with him. He is gentle, loving, playful, and energetic. He loves to hike and go to the beach which we do about 4-5 times a week. At this point he is still really healthy and loving life. I would like to help him have that for as long as possible. He has been by my side through everything, my constant companion. He is honestly the best thing that has ever happened to me. I know for everyone there is that one dog who comes into your life that feels like your soul mate. He is it for me. I couldn't have asked for a better gift from God. I don't know what I would do without him. I want to be able to give him back even a small portion of what he has given me.…"
Unfortunately she was unable to pay for the expensive cancer treatments and had no other options… until she contacted us. The JLACF believes that everyone should have access to the latest cancer therapies, which gives Darwin hope. Thanks to donations from our supporters, we are able to help Darwin, and provide an opportunity for him to be with his Family for as long as possible.