Check out some of the great pictures from the JLACF's 2014 5K that took place in Liberty State Park on May 18, 2014 (click on the pic to enlarge):
JLACF Walk, Run & Wag 5K and Ice Cream Social to Benefit Animals with Cancer!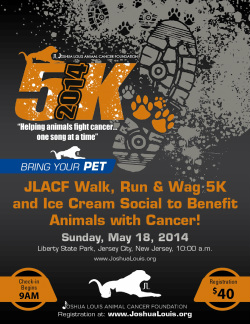 A Benefit for:
Joshua Louis Animal Cancer Foundation
Meet Vito Vincent the Celebrity Cat (click here to learn more!)
Friends! / Pets!
Views! / Cool T-shirt!
Premium disposable chip timing!
Sunday, May 18, 2014
Liberty State Park, Jersey City, New Jersey
Please note that for this Event, all participants are "Team JLACF"- you are not able to register separate teams.
Thank you!
Once registered, please forward your 'page' to your Friends and Family, and absolutely any Animal Lover that you know!
Liberty State Park, Jersey City, New Jersey
10:00 a.m., Sunday, May 18, 2014
(Check-in begins 9:00 a.m.)
You can walk, run or wag (bring your pet!)!
You will receive an official JLACF race t-shirt
(women's sizes run small!)
Ice Cream Party (guilt free, you just did a 5K!)
The course at Liberty State Park, Jersey City, New Jersey:
If you have never been, Liberty State Park has some of the most stunning views of the Statue of Liberty, New York Harbor, and NYC! The entire length of the course takes you up and down the boardwalk alongside New York Harbor–truly stunning! AND the best part about this is… you can bring your pet!
How do I get involved?
Most of you have probably heard of Crowdrise.
The JLACF teamed up with Crowdrise to manage the participants in the race. All you have to do is go to the JLACF's page and click on the "Register" button.
Click here now:
http://www.crowdrise.com/JLACF2014
Why Crowdrise?
Crowdrise provides a user-friendly platform that gives each of the participants their own 'page' within our fundraiser. This enables each participant to easily send out their 'page' to all of their friends and connections and get sponsored. The more sponsors you have, the more money you can raise to benefit animals with cancer!
Will I have any trouble with registration?
We hope not! We have been warned that the Crowdrise site has occasional issues with Internet Explorer—if that happens to you, please try it again with a different web browser such as Google Chrome or Firefox. If you still cannot get it to work, please contact us and we will ensure that you get registered.
Cannot participate in the 5K?
That's okay! Sign up, get sponsors, receive the cool t-shirt–
we'll do the race for you!!
Please feel free to share this link with anyone you think might be interested… the more the merrier!