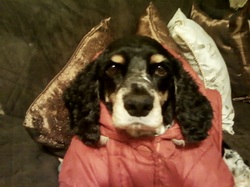 Neeta's Mom contacted us from Jackson Heights, New York, and although she thinks Neeta has a very strong chance to do very well, the finances are an obstacle. Neeta's Mom will do everything she can to take care of Neeta, and the JLACF wants the same. Some of what Neeta's Mom told us is below:
"Neeta has begun her Elspar treatment and one oral chemotherapy. Due to financial constraints I can't afford to continue to take her for her oral chemo. They are really nice where I take Neeta, but I can't afford…"
We understand. At the JLACF we envision a day when finances are no longer a factor influencing a Family's decision about whether or not to pursue specialty care for their furry families. She was pretty excited we were able to help, and this sentence says it all!
"Thank you for giving my Neeta an opportunity…"